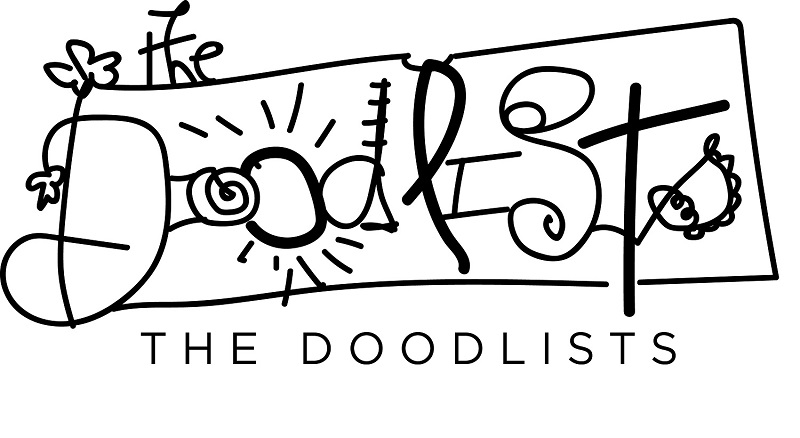 "The Doodlists" are...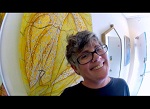 Dana Frostick
danafrostick.com
Born and raised in Richmond, VA, Dana Frostick studied at Virginia Commonwealth University in the 1980s. She majored in sculpture, but painting and drawing have always been her primary forms of expression. She has combined these two media in her "Elaborate Doodles" which she has been producing exclusively since 2007. Her work has been accepted into and won awards in juried shows on the local, regional and national levels.
"Elaborate Doodles" are mixed media paintings that involve an automatic drawing process that is then articulated with details and patterns. Because she is not restricting her content to a pre-conceived composition, this type of work allows her unfettered access to her unconscious, providing a more direct path to her vision as an artist.
Frostick will also curate the exhibition.

Duane Cregger
duanecregger.com
Duane Cregger is mid-Atlantic contemporary artist who lives and works in the mountains of Virginia. His large, brightly colored and heavily textured abstract works in oil, acrylics, and mixed media hang in private and corporate collections in the United States, Canada, and the Caribbean. In 1992, Cregger received a Bachelor of Arts in Art Communications from Roanoke College in Salem, Virginia. He lived in Washington, DC, for nearly 15 years, with a successful career in art direction and corporate graphic design; in 2003, he began to paint.
Cregger approaches a blank canvas without preconceptions of what the painting will be and begins to gesture-sketch lines, shapes, and curves using a combination of charcoal, sepia pencil, china marker, and graphite. For some paintings, the sketch becomes a clear drawing of symbols and, sometimes, loosely formed words that flow intuitively and quickly; in other works the sketch depicts abstracted objects or a non-objective composition.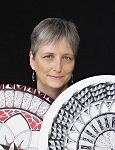 Susan Singer
susansinger.com
Each time life has handed Susan Singer a huge challenge – i.e. divorce or her child's life-threatening surgery – she has turned to art to process the experience. She's drawn pregnant nudes, gigantic scars, naked men, and now female nudes as she's working with society's expectations of the ideal body. She received a BA in German from W&M in 1981 and a MIS from VCU in 2003. She's shown her work in many solo shows throughout Virginia and has won myriad awards in national shows.
Susan is also an avid practitioner and teacher of Zendoodles. Zendoodles are the art of repeated patterns which coalesce to create beauty both on the page and in the mind.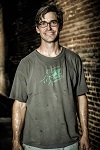 Matt Lively
squigglethis.com
Matt Lively is an artist living in Richmond, Virginia. He works in a 130 year old barn that is close to his family. A lot of things get made in the barn and some of it is shown nationally and internationally. When not in the studio, Matt teach at VCU and the Virginia Museum of Fine Arts.
Matt's Squiggle Drawings are drawings made from other peoples squiggles. The folks that he runs into give him a squiggle and a subject and he turns the squiggly line into that subject. After completing the drawing, it is then sent to writer Janet Freisner who makes a caption, story, poem, etc.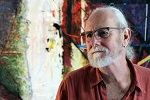 Henry James Stindt

Showing in artspace's Helena Davis Gallery from May 23-June 22, 2014, Henry James Stindt presents "MANIFESTING: Recent Mixed Media Enquiries." Stindt's exhibition of tactile mixed media works presents the "evolutionary processes" of each piece. Receiving his MFA from Pratt Institute, Stindt exhibits nationally, and is an Adjunct Professor of Studio Photography at East Carolina University.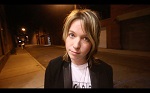 Dee Glazer
deeglazer.com
Dee Glazer is from Potomac, MD and received her BA from the University of Richmond where she studied both art and philosophy. Toying with the subjects of philosophy and science fiction, she presents these abstract notions of contemporary thought in a fundamentally playful manner. Glazer has had numerous exhibitions in Richmond VA, exhibited internationally in Antigua Guatemala, and participated in the 2013 Richmond Street Art Festival. She is currently pursuing her Master of Fine Art at the Pennsylvania Academy of Fine Arts.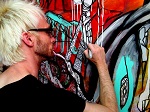 Roman Zelgatas
romanzelgatas.com
Roman Zelgatas born in Newport News Virginia 1975. He resided in Gloucester County VA until 17 years of age.
Since the fall of 2003 he has demonstrated this an uncanny ability to create visionary works in public cafes, art shows, and at charity events. His art is an organic symbolic representation of the spiritual human psyche with all her heights and deep metaphysical scars.
Roman is also a co-exhibitor in artspace's Fall 2014 exhibition, "Exquisite Abnormalities."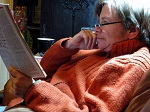 Rob Ryder

Richmond artist Robin Ryder studied in the MFA program in Painting and Printmaking from VCU. He is a member of artspace and has exhibited frequently in the Richmond area. His doodle work is detailed and colorful, frequently mixing patterns with representational elements.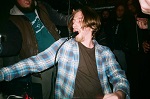 Leo Heinzel

Leo Heinzel is a musician, artist and composer primarily active in the noise and punk community. Drawing from familial influences, his drawing style is an off the cusp, almost narrative of mind drawing style. His art has been shown at Plant Zero, Studio Two Three and Strange Matter. Leo composed 50 separate collages for well known noise artists Mutwawa's first tape release. Leo has performed throughout the United States, with solo performances as well as group performances, several times at the International Noise Conference. A founding member of the short lived "Church Of Crystal Light" art gallery in downtown Richmond, he has continued to bring noise and art to the forefront of his local scene.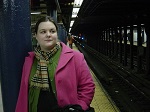 Shannon Gilbert
shannongilbert.com
Shannon Gilbert moved to Richmond from Portland, Oregon in 2005. She received a Fine Arts Certificate from John Tyler in 2005 and studied painting at VCUarts until 2010. Shannon has exhibited her work nationally and won local and international awards for painting. During the month of May, Shannon will be an Artist-In-Residence at the Art Students League of New York.
"Doodling allows me to explore the potential of mark making through a meditative, automatic process. There are no mistakes, only discoveries. The large scale works in this show represent various jumping off points over the last 7 years, preparing for more in depth bodies of work."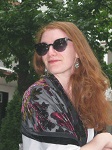 Tracey Herman

"Truth is, I don't know why I doodle. Maybe it's because of boredom or the desperation to focus my eye on one particular point and then let the pen do whatever it wants. Essentially, I lose control and let it happen. The moment I start to control it, the whole thing changes but then becomes some strange form of organized chaos."
˜Tracy Herman

Ja Mes

And last, but certainly not least, Ja Mes gives us a somewhat satirical look at his inspiration to create doodle art. While not totally factual, there is much truth in the essence of his statement:
"I was born in Rio De Janero and was left on the street as a child... I made a hut for myself out of mud and straw. After I made the hut I realized I could make sculptures the same way. I made sculptures and sold them to the tourists or traded them for turtles and mustard. I loved to eat turtles and mustard, even though I would cry each time I killed a poor turtle. One day I found a pen on the ground and decided to draw on anything I could find... Once I started drawing... it was like therapy! I began to forgive myself for all of the turtles I ate. Now I draw everyday to keep myself happy. I haven't eaten a turtle in years!"
Last update: 5/1/2015 11:35:55 AM